Vinyl Window Installation: California Doors and Windows With Details on Double Hung Replacement Windows
Before you purchase a new vinyl window, make sure it has a certification from the 
American Architectural Manufacturers Association (AAMA).
Vinyl Windows: Reinforced Interlocking Sash Meeting Rail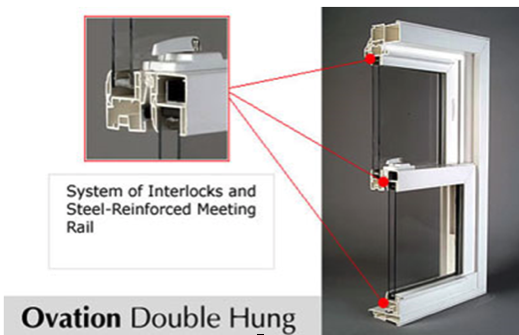 Double Hung Vinyl Window Example
When the 2-Sashes meet in the center of the window, they interlock together to create a tight seal that stops wind, air, water, noise and insect infiltration. They are reinforced with steel, aluminum or a composite, inside the vinyl sash frame for strength and for the cam lock and keeper to mount securely to the sash.
Metal Cam Lock and Keeper
The metal cam lock and keeper are expertly constructed, stylish and strong. They are the main locking mechanism designed for security and to discourage forced entry. They come in several shapes, sizes and colors.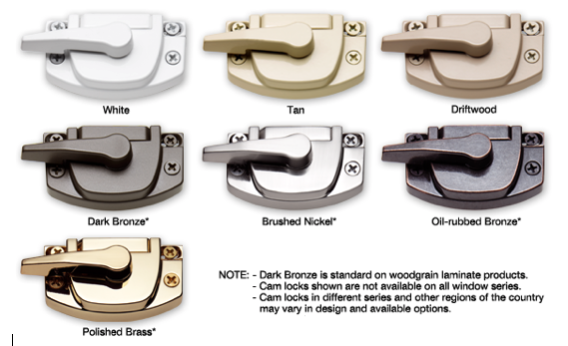 Insulated Glass Units (IGU)
or
Dual Pane Units
engineered for optimal energy efficiency and durability. They are made of 2-sheets of Single Strength or Double Strength glass that are hermetically sealed with industrial strength butyl and High-Performance adhesives. There are several tints available along with inert gases that will help increase the energy efficiency of the overall dual pane unit. The spacer system in your vinyl window not only stabilizes the panes of glass, it also plays a key role the windows structural integrity. There are several Dual Pane Technologies available.
The most common types of IGU Technology are:
Aluminum Spacer Bar
- A lightweight Aluminum Bar that is shaped as a rectangle and hermetically sealed with butyl. Contains desiccant inside the aluminum spacer bar to absorb water and humidity. This IGU Technology is the least energy efficient on the list since aluminum is a terrible insulator and can actually lower the units' energy efficiency.
Swiggle Seal
– A thick chunk of industrial butyl, with a thin piece of aluminum inside the butyl, which holds the 2-sheets of glass apart. It incorporates a flexible, non-metallic tube design that has a smooth surface appearance along with a gray or black sightline.
Intercept Spacer
- Contains a stainless steel alloy along with a patented U-Shaped design. It is strong, resistant to corrosion and impervious to gas transmission, which improves insulation gas retention in the window unit and increases its overall thermal performance.
Super Spacer
- A Strong, Flexible and Structural Silicone Foam that contains no steel or aluminum. It consists of an integral desiccant that contains millions of tiny air pockets that have been shown to conduct heat and cold at a rate over 950 times lower than aluminum and 85 times less than stainless steel. It utilizes an Acrylic Pressure-Sensitive Adhesive bonding agent that is actually specified for NASA's space shuttle.
Call today at 888-804-7775 for your free estimate!