Vinyl Window Frame Anatomy
Not all
vinyl windows
are created equal and not just any contractor can install them perfectly.
If you are wondering exactly how your windows can be more energy efficient and save you money, this is how they are composed.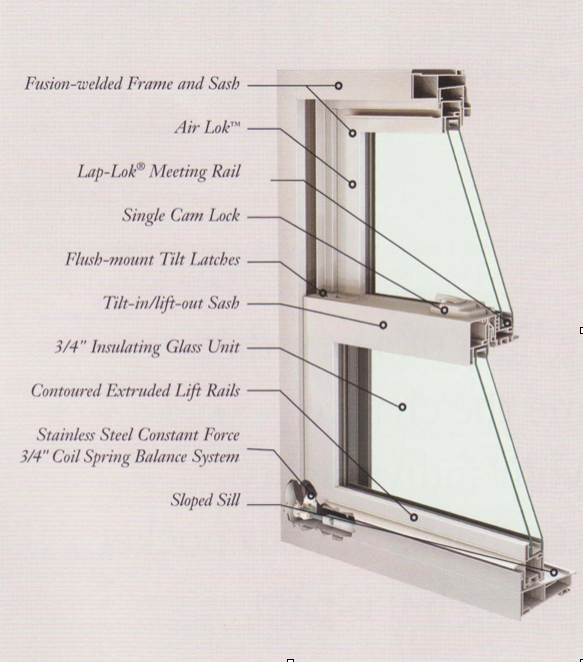 The Components of a Vinyl Window are:
uPVC Main Frame and Sash Frame
Reinforced Interlocking Sash Meeting Rail
Metal Cam Lock and Keeper
Insulated Glass Unit (IGU)/Dual Pane Unit
Balancer System for Vertical Sliding Windows (Single Hung & Double Hung)
Rollers for Horizontal Sliding Windows (XO, OX, XX, XOX)
2-Point Locking Systems & Hinges for Casement, Awning and Hopper Windows
Tilt Latches for Single and Double Hung Windows
Grids/Muntin Bars
Limit Locks
Mohair and Dual Durometer Weather Stripping
Weep Holes
Pull Rails
Insect Screen
Vinyl Window Styles and Shapes come in:
Horizontal Sliders (2, 3 and 4 sashes wide)
Single Hung
Double Hung
Oriel Style
Picture Frame Style
Hinged Windows-Casements, Awnings and Hoppers
Specialty Shapes- Arches, Circle, Half Circle, Octagon, Hexagon, Trapezoids
Bay and Bow Windows
Garden Windows
Call today at 888-804-7775 for your free estimate!